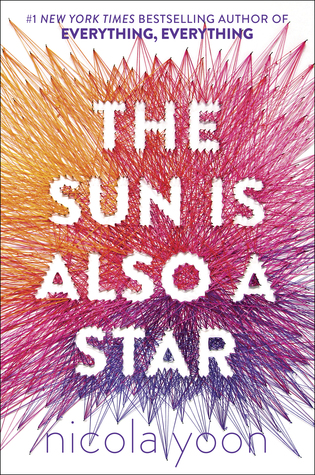 Title: The Sun Is Also A Star
Author: Nicola Yoon
Page count 384 pages
Released: November 1st, 2016
Genre: YA, Contemporary
Type: Paperback & eBook
Rating: ★★★★☆
I kindly received this on Netgalley in exchange for an honest review. This in no way impacts my thoughts. Thank you Penguin Random House Children's Publishers! 
---
Natasha: I'm a girl who believes in science and facts. Not fate. Not destiny. Or dreams that will never come true. I'm definitely not the kind of girl who meets a cute boy on a crowded New York City street and falls in love with him. Not when my family is twelve hours away from being deported to Jamaica. Falling in love with him won't be my story.
Daniel: I've always been the good son, the good student, living up to my parents' high expectations. Never the poet. Or the dreamer. But when I see her, I forget about all that. Something about Natasha makes me think that fate has something much more extraordinary in store—for both of us.
The Universe: Every moment in our lives has brought us to this single moment. A million futures lie before us. Which one will come true?
Nicola Yoon's debut book Everything, Everything was my favourite of last year's contemporaries, so I was extremely excited to read this! I had it pre-ordered forever ago but got accepted for the ARC just after it was released, but I'm happy with either!
Because of the enormous success of Everything, Everything, this book had a lot to live up to. The idea of not one character, but almost every single character being a person of colour, was the biggest thing going for this book in the YA scene. I don't know a lot, and I can't say a lot, because I'm white myself, but I will say – this was a great insight into the regular lives of other cultures and I like to think it helped me understand even a tiny amount of what people go through. Immigration is what this book is centered around, and I was slightly worried that I wouldn't be able to keep up or relate enough. Of course I was entirely wrong!
The story of Natasha trying to keep her place in America, and Daniel trying to fit into both his Korean family and his American life, had enough life and love to keep anybody reading regardless of it's relatability. Straight off the bat Natasha was this care-free yet super intense character, a science geek, a music lover, a decider. Coincidences – or not – brought her to Daniel, or Daniel to her, or whatever you'd like to think. Coincidences – or not – took them apart again. This story makes it so easy to see that one choice, one tiny decision of yours can change the course of somebody else's live, big or small. Including your own.
It's difficult to say much more about the actual story without giving away key points, but the romance was poetic, the characters were thorough, and the feelings were palpable.
The only flaws I found were that this is really, really insta-love-y, but so was Everything, Everything. When your entire life is being uprooted tomorrow I guess you would be the same. It's easy to look past it here.
All in all, I loved this book and despite how upbeat it can seem, there are some serious issues being underlined here, and I'm glad I was exposed to them. It reminded me of a mixture of Gayle Forman's Just One Day and Sandy Hall's A Little Something Different.
★★★★☆