Top Ten Tuesday is a weekly feature meme hosted at The Broke and Bookish where you choose your top 10 favourite books rbased on a theme.
This week's theme is Top Ten Favourite TV shows!
1. Game of Thrones 
Despite the fact I've only read half of the first book, Game of Thrones is definitely my favourite show in existence. I only started it this year, too! I completely binge watched it and oh my god, you can't imagine my excitement to be able to watch S6E10 with the rest of the world at 2am. 😛
2. Mr Robot
I'm a little way through season 2, but I adore this show. It's confusing and somehow both fast and slow, almost having a sedated feeling, but it works perfectly. Having spent two years studying film, this is my favourite show aesthetically. It makes my film nerd heart happy. (P.S Darlene is my fav)
3. Sherlock
This list wouldn't be complete without Sherlock. While I'm not in the height of my Sherlock obsession right now, I still get secretly excited about every little thing. I'm going to the UK Sherlock convention in two weeks! And last week, my favourite character Moriarty was announced. I get to meet him and get a photo and that was the moment my Sherlock obsession hit me again full on. I know the fanbase has a bad name, but shit happens.
4. Faking It
I have to have at least one guilty pleasure on here. Faking It makes me happy. Amy makes me happy. Karmy does not make me happy.
5. Orphan Black
I reeeeally need to catch up on this! I left it at the beginning of season 3 because of college commitments, but now that I have spare time, it's high on my priority list. But I think I'll re-watch it all as I'm sure there's no way I'll be able to remember everything about every clone because damn there are so many.
6. The 100
I have mixed feelings about The 100. I loved it when it first started. It got better, and it got better still. I fell behind and then binged the second season because I knew Clexa was going to happen. And then I heard the spoilers and… stopped. I don't want to carry on watching and put myself through that emotional strain. Maybe one day. For now, I'll enjoy the memories. 😛
7. iZombie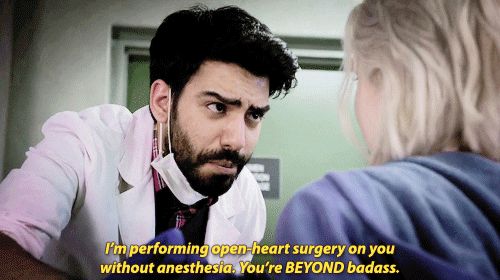 iZombie is the mix of comedy, romance and gore that everyone needs in their life. Besides the zombie aspect, I wish I could be Liv. She's an amazing character and her dress sense is, possibly, my favourite of any character ever. I wish more people watched it. 😦
I'm only going to do 7 as the other shows I'm into are new, abandoned or don't feel strongly enough to comment on – but lemme know if you like these! 🙂