Book Traveling Thursdays is a weekly feature meme hosted by Catia @The Girl Who Read Too Muchand Danielle @ Danielle's Book Blog! The purpose is to find book covers from around the world and choose your favourites. The list of themes is on Goodreads!
This weeks theme is music themed!
I definitely struggled trying to find a book that was significantly music related. A lot of the books I came across had already been done – and others I couldn't remember if they were truly about music, or just in passing. But then I remembered Amy & Roger's Epic Detour and knew it was the one! 🙂 This book is about a roadtrip and, being the super cute book that it is, supplied us with playlists throughout the book. Despite a hidden heavier message, it's a light book that is seriously good for summer. The author is also Morgan Matson – who recently released The Unexpected Everything which everybody has been going crazy for and I'm currently reading!
Original (US/UK)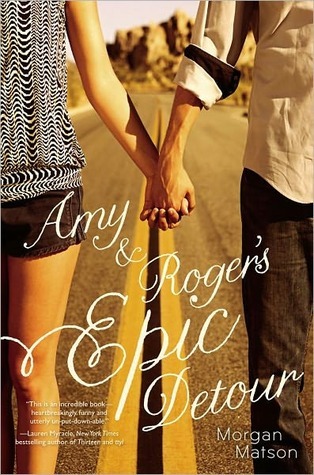 Favourite Covers
These are the Spanish (left) and Italian (right) covers. The Spanish is my favourite; I love the blue sky, the clouds, how content they look in the car. And although I probably wouldn't be drawn to the Italian one in a shop, I love the little road and I'm a sucker for flowers!
Least Favourite Covers
US (left), Indonesian (middle) and Polish (right). The reissued US cover looks like a 90's TV show aimed at kids. The Indonesian one looks like it could be the cover of a Ladybird book… and I feel like the Polish one is less contemporary and definitely darker than this story actually is!
Besides these, there's also a Swedish version with almost the exact same cover as the original, but… different models and slightly different clothes. And I don't understand that one tiny bit. 😦