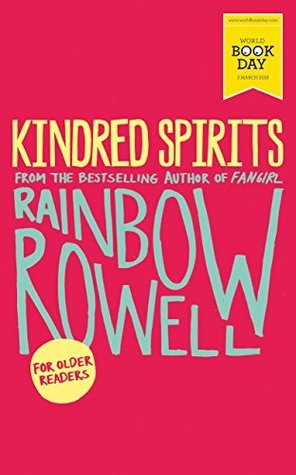 Title: Kindred Spirits (World Book Day UK 2016)
Author: Rainbow Rowell
Page count: 96 pages
Released: February 25th 2016
Genre: Contemporary, Short Story
Type: Kindle Edition
Rating: 
"'Everybody likes everything these days. The whole world is a nerd.'
'Are you mad because other people like Star Wars? Are you mad because people like me like Star Wars?'
'Maybe.'
If you broke Elena's heart, Star Wars would spill out. So when she decides to queue outside her local cinema to see the new movie, she's expecting a celebration with crowds of people who love Han, Luke and Leia just as much as she does. What she's not expecting is to be last in a line of only three people; to have to pee into a collectible Star Wars soda cup behind a dumpster or to meet that unlikely someone who just might truly understand the way she feels. Kindred Spirits is an engaging short story by Rainbow Rowell, author of the bestselling Eleanor & Park, Fangirl and Carry On, and is part of a handful of selected short reads specially produced for World Book Day."
Kindred Spirits is a cute, quick and refreshing read about having fun and letting yourself go, whilst making friends along the way. Elena, the main character, is 18 and desperate to see the new Star Wars film on opening night – since she was too young last time. But more than that, she wants to be a part of the infamous queue that starts days before the release. She wants to embark on crazy queue adventures, make friends for life and not worry about the fact she's sleeping on the street for a week – after all, it's worth it for Star Wars. However, her days of camping are not what she expected. Only two other people turned up for the queue, one of which wouldn't even talk to her. As the days go on she has to break through the awkwardness and survive the December cold (not to mention the lack of bathrooms).
The only Rainbow Rowell book I've read before is Fangirl a few years back, and while I loved it, I didn't know what to expect from this. Being a short story for World Book Day, I didn't think it would be as good as an actual book. However, I'm really starting to enjoy short stories and this was no exception! It was fast paced despite their situation and each character was full of personality, true to everything I've heard about Rainbow Rowell's writing. I wish it was longer – it has good potential.