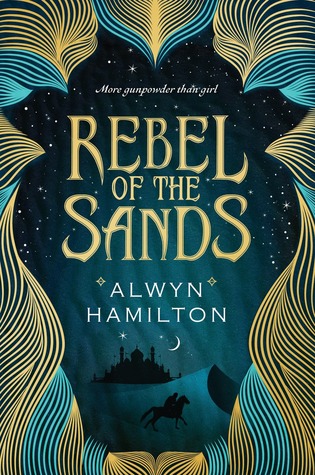 Title: Rebel of the Sands
Author: Alwyn Hamilton
Page count: 358 pages
Released: February 4th, 2016
Genre: High Fantasy
Type: Paperback
Rating: 
"She's more gunpowder than girl—and the fate of the desert lies in her hands.
Mortals rule the desert nation of Miraji, but mystical beasts still roam the wild and barren wastes, and rumor has it that somewhere, djinni still practice their magic. But there's nothing mystical or magical about Dustwalk, the dead-end town that Amani can't wait to escape from.
Destined to wind up "wed or dead," Amani's counting on her sharpshooting skills to get her out of Dustwalk. When she meets Jin, a mysterious and devastatingly handsome foreigner, in a shooting contest, she figures he's the perfect escape route. But in all her years spent dreaming of leaving home, she never imagined she'd gallop away on a mythical horse, fleeing the murderous Sultan's army, with a fugitive who's wanted for treason. And she'd never have predicted she'd fall in love with him…or that he'd help her unlock the powerful truth of who she really is."
Currently debating whether or not this is a 3 star, 3.5 or a 4 star. It's a big leap to a 4 star… but I feel it deserves more than a 3.5. So – it's subject to change! Edit: it's definitely a 4-star. No doubt.
As soon as I read this synopsis, I knew I had to read the book straight away. I was too late to request the ARC, but I wasn't too late to order it into my nearest Waterstones for before the release date! After reading A Thousand Nights by E.K Johnston last year and enjoying it far more than I thought I would, I was really looking forward to the Arabic/folklore/magic theme.
Rebel of the Sands took it so much further than I thought it would, even with high expectations – and I'm pretty sure I just found my new favourite love interest, Jin. Not only did this have great world structure, a badass female lead and all kinds of characters around her, but it definitely had the ragged, carefree "boyfriend" (I use that term lightly) too. Can't kick a good old love-hate angsty relationship. 😉
But aside from all of this greatness, I felt like it did lack emotion… and continuity. It seemed very stop-start-stop-start, and a lot of it felt rushed. This easily could have made it's way into being a more in depth 500-page book, rather than 350ish with some things left unexplained.
But regardless of that, I loved it! (Plus, the cover is real pretty, so you should probs read it.)