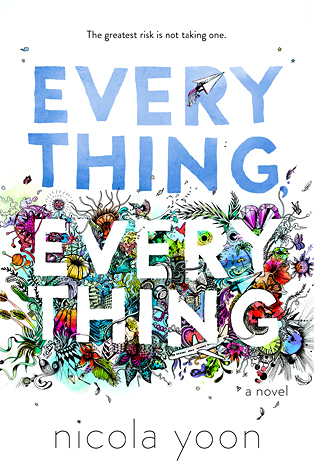 Title: Everything Everything
Author: Nicola Yoon
Page count: 320 pages
Released: September 1st 2015
Genre: YA, Contemporary, Romance
Type: Paperback
Rating: 
 5 stars
"My disease is as rare as it is famous. Basically, I'm allergic to the world. I don't leave my house, have not left my house in seventeen years. The only people I ever see are my mom and my nurse, Carla.
But then one day, a moving truck arrives next door. I look out my window, and I see him. He's tall, lean and wearing all black—black T-shirt, black jeans, black sneakers, and a black knit cap that covers his hair completely. He catches me looking and stares at me. I stare right back. His name is Olly.
Maybe we can't predict the future, but we can predict some things. For example, I am certainly going to fall in love with Olly. It's almost certainly going to be a disaster."
You know it's a damn good book when you're crying 50 pages in and read it in 3 hours. What has this book done to me?
Okay. Woah. This is going to be a mess.
I guess I'm slightly biased, since I have Chronic Fatigue Syndrome – an illness that means I could rarely leave the house for 3+ years, and people either forgot about me or pitied me, with the rest not believing the illness existed. I can safely say that this book does these house-bound illnesses justice, which is the most important thing. So yeah, it was pretty personal. But regardless.
This book was so touching in the way that I think you'd see yourself in the main character, Madeline, whether you're ill or not. She's so lovable; she does these crazy, stupid things, but I admired her for it instead of hated her. I loved her relationship with every character in the book; the way she felt everything so fiercely. The way she made mistakes. Since there were so few characters in this book, each one was realistic, in depth, lovable.
My favourite thing about this book, though, is the adorable illustrations and unconventional chapters! "Chapters" with only a paragraph; whole chapters in the form of an online IM; hand drawn pictures, lists, notes. These were provided by Nicola Yoon's husband and they were the best. 
The only tiny, tiny thing I didn't like about this book was the fact that everything was set in motion because of a boy – why couldn't it have been a best friend? I feel like I'm always asking that question with YA contemporaries.
Regardless, I think this book has the potential to change a lot of opinions. Please read this book. Especially if you're healthy.