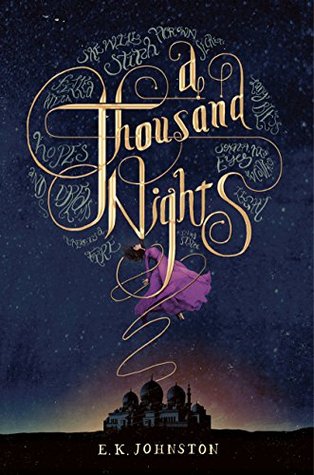 Title: A Thousand Nights
Author: E.K Johnston
Page count: 336 pages
Released: October 6th 2015
Genre: YA, Fantasy, Retellings
Type: Kindle, ARC
Rating: 
 3 stars
A Thousand Nights is a retelling of the Middle Eastern, West and South Asian folk tales One Thousand and One Nights. The story follows a girl – nameless, like almost all the characters – throughout a magical experience to, basically, rid the city of a demon. Lo-Melkiin, one of the few characters with a name, makes his way from village to village marrying girls who die shortly after their wedding night. Nobody knows quite how they die and nobody questions it, because in return, their city is being ruled well. When Lo-Melkiin comes to her village, the main character dresses as her sister does because she knows that's the only way she can outshine her. She will not let Lo-Melkiin take her sister for his own. So she follows him to the city, where she knows she might only have one night before her inevitable death. She isn't even sure how he does it.
But the nights go on, and she isn't dead. She comes to discover that Lo-Melkiin has a strange kind of magic, and is warping the people around him. All around the world, people worship their smallgods – people of their village who have become infamous and made a change. The main character inevitably becomes one of these, and as the days go on and her life continues, more people believe her as their smallgod, increasing her power. Soon, she realises she has a similar power to that of Lo-Melkiin's – the difference being that when she learns she can influence, control and even make things appear, she's determined to never use it in vain. During her time as Lo-Melkiin's wife, she must find a way to kill the demon inside of him. And she does.
–
You know how when you read somebody else's review and you accidentally take their opinions? This happened to me with A Thousand Nights, and it wasn't good. I started out disliking this book, thinking that I was actually going to give up around 40%. From then until about 80% through, nothing much happened, and I was bored. But I realised afterwards that these opinions were not my own, and despite the slow bits, I was actually really enjoying it! This book is full of stories, traditions, wishes and religion, and I loved it. I am only giving it 3 stars though, because there was a lot at the beginning that I didn't understand, and it was a little annoying not having any character names. I'm currently undecided as to if I should read The Wrath and the Dawn, which is a retelling of the same story. It's much more popular, but the main character also falls in love with the king (Lo-Melkiin in this story) and I don't think I can handle that. I've never read a book quite like this before, so I think it's gonna stick.