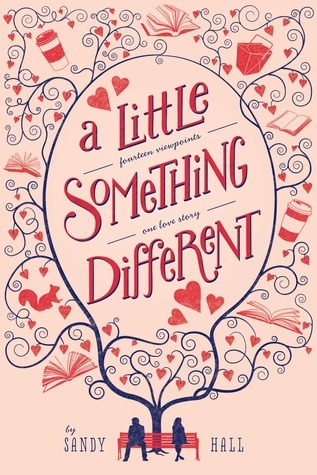 Title: A Little Something Different
Author: Sandy Hall
Page count: 272 pages
Released: August 26th 2014
Genre: Young Adult, Contemporary, Romance
Type: Kindle Edition
"The distinctive new crowdsourced publishing imprint Swoon Reads proudly presents its first published novel—an irresistibly sweet romance between two college students told from 14 different viewpoints.
The creative writing teacher, the delivery guy, the local Starbucks baristas, his best friend, her roommate, and the squirrel in the park all have one thing in common—they believe that Gabe and Lea should get together. Lea and Gabe are in the same creative writing class. They get the same pop culture references, order the same Chinese food, and hang out in the same places. Unfortunately, Lea is reserved, Gabe has issues, and despite their initial mutual crush, it looks like they are never going to work things out.
But somehow even when nothing is going on, something is happening between them, and everyone can see it. Their creative writing teacher pushes them together. The baristas at Starbucks watch their relationship like a TV show. Their bus driver tells his wife about them. The waitress at the diner automatically seats them together. Even the squirrel who lives on the college green believes in their relationship.
Surely Gabe and Lea will figure out that they are meant to be together…."
I'm not gonna lie, I actually started this book accidentally. I was scrolling through my Kindle while willing my unreliable Internet to hurry up so I could download a new book, when I accidentally opened this and read the first page. I couldn't remember a thing about this book and didn't really know why it was on my Kindle – I couldn't figure out if it was a YA book or just a free book I'd downloaded from the romance section on Amazon. Despite downloading those I tend to dislike them, so I was hesitant.
Regardless, I read the first few pages and was pretty annoyed with who I thought was going to be the main character, Maribel. But when the next chapter was told from the point of view of a teacher, and the next by a bench, I obviously had to keep reading. Who writes a story from the POV of a bench?
At first, I thought I was going to hate Maribel and Inga, the creative writing professor. Maribel just seemed cardboard and Inga was trying too hard to be cool. Yet, the further the story went on, the more I found myself enjoying their thoughts.
Since the Internet wasn't working and I couldn't look the book up on here, it took me a while to realise the actual point of this book: that all the people Lea and Gabe encountered were actually rooting for their relationship.
By 11%, I was hooked. I came to love nearly every character and since the chapters were so short, it wasn't difficult to endure the only one I didn't like. I love that this was told by so many different people. I like that Gabe had issues and we didn't find those out until halfway through. I love that their professor literally sets assignments just to set them up, even though that sounds creepy. It wasn't.
I love literally everything about this book, and I regret reading it in public because I was constantly covering my face with my hands to stop from squealing! I'm pretty sure I'll be talking about this one for a while.
The only reason I knocked off half a star is because I hoped the ending would go a different way. Either way, it was a great ending, and I definitely wish more books were written like this. I also can't help but wonder – do strangers really root for couples like that? Do bus drivers go home and tell their wife about the cute pair? I hope they do.
And obviously my favourite POV was the squirrel's.
EDIT: I forgot to mention that this book is quite diverse, which was wonderful. Not only is one of the main characters Asian, but it also discusses disabilities such as hearing loss, has two gay characters, and even mentions asexuality and pansexuality, all without making a big fuss.